CDL Class A Regional Company Truck Driver - We need you!
Call Today!
888-871-2437
Location
Iowa, Kansas, Virginia
Hiring Radius
0 miles
At Van Wyk, we appreciate our drivers, and that's why we are COMMITTED to helping them make a better living and have a better life!
NEW DRIVER PERCENTAGE PAGE, PLUS .30 CPM FOR DEADHEAD!
Van Wyk is a small company with a family environment that believes in fair and ethical treatment of all employees--that means that as a Van Wyk driver, you can rest assured that you will always feel appreciated and respected. We are a stable company with over 55 years of business history (We aren't going anywhere!). With a management team that has been behind the wheel, we understand what it's like to drive.

Ask about our Transition Pay!
Here's why drivers choose Van Wyk:
• In 2022 our drivers averaged $86,700 annually
• NEW Driver % pay, Plus 30 cpm for Deadhead
• Assigned fleet managers
• Home Weekly
• A premium pay package
• All tractors have refrigerators, Webasto or Espar heaters and high-end specs
• 80% of tractors less than 1.5 years old and are assigned
• All trailers air-ride and less than 5 years old
• Paid weekly
• Health/Dental Insurance
• Paid vacations
• 401K with company match
Here's what we require of our drivers:
• Minimum age of 23 years old
• Class A CDL
• 1 year of recent OTR experience (possible training for inexperienced CDL holders)
• No more than 3 moving violations in past 3 years
• No major violations on MVR in last 5 years
• No major preventable accidents in last 3 years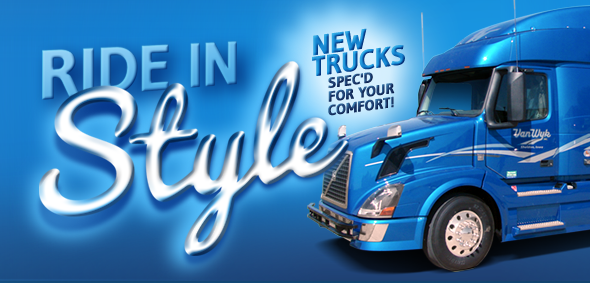 Call Today!
888-871-2437
Job posted by